You've heard about the headline-making bed bug lawsuits and the invasion of famous cities. You know they can cause thousands of dollars in damage and allergic reactions to bites.
So, if you're afraid of getting bed bugs, you certainly have good reason to be.
Bed bugs are disgusting, their bites can be itchy and painful, and they can even end up forcing you to get rid of your mattress, sofas, and other infested clothing and furniture.
Bed bugs just aren't something you want to deal with!
If you're concerned that you currently have bed bugs, you might debate at home bed bug treatment options vs. professional extermination.
Get a Fast, Free Estimate
Is it really worth it to hire a bed bug pest control service or is it possible to handle the problem on your own? Read on to find out, plus the signs of bed bugs, and what can you do to prevent them in the future.
Will an At-Home Bed Bug Treatment Work?
Maybe you've read up online about the possibility of a DIY bedbug treatment that's supposed to be "just as effective" as expert help.
You plan to purchase some insecticide spray online, grab your vacuum cleaner and attack the crevices in your mattress. Or, maybe just scald all your clothing in near-boiling water and long dryer cycles. Perhaps you've even heard that simply sprinkling baking soda on the problem areas and objects is the solution.
Here's the truth: DIY bedbug removal is never a smart idea.
It's not just ineffective, it's also unsafe. Especially when you're considering working with harsh chemicals that you have no idea how to properly use.
It's always worth it to let a professional handle a bed bug treatment.
Why You Need a Professional Bed Bug Pest Control Service
The above-mentioned "treatments" simply don't work at riding bed bugs. Plus, products like bed bug bombs can make your infestation worse.
A bug bomb can cause the pests to scurry away from the original infestation sight and hide somewhere else in your home. You might have started out with an infestation in one bedroom and then a bomb can cause it to spread to another room—even if there's no bed there.
Despite what their name may suggest, bed bugs don't only live in your mattress and box spring. They can call electrical sockets, your drawers, your baseboards, and even your lamps home.
Only a professional will know exactly where bed bugs are most likely to hide in your home. They'll also be able to identify signs of them that you might miss on your own.
In addition to controlling live bed bugs, an exterminator can also remove bed bug eggs and larvae—making the infestation stop for good.
Above all, they know how and where to administer professional-grade chemicals to protect the health of your family and pets. Many bed bug professionals also offer heat treatments that can greatly reduce the number of chemicals needed to get bed bugs out of your home.
Don't waste your time and money on so-called "solutions" that just cause you more problems. Let an expert handle it instead.
Signs You Need a Bed Bug Exterminator
Worried that you have bed bugs now or you just want to make sure you know what to look for in the future so you can act quickly? Either way, it pays to be familiar with the signs of a bed bug infestation.
First, you may notice blood stains (often, from you scratching bites in your sleep) on your bedsheets. Other blood-like stains on sheets can be rust-colored and are bed bug feces.
You may notice your home smells a bit musty, or, you may even spot them in the crevices of your mattress or couch cushions.
Of course, bed bug bites are perhaps the most well-known sign of a problem. These bites can look similar to that of a mosquito's. However, one major difference is that bed bug bites tend to appear in clusters or tight rows of bites.
How to Prevent Bed Bugs
Whether you've had an infestation before or not, you should always be proactive in preventing one in the future.
First, speak with your pest control professional about scheduling regular service appointments.
If you buy secondhand/thrift clothing or furniture, make sure you inspect the seams, tags, cushions, and entire object for bed bugs before you buy it. Even check your luggage when you get back from a trip.
Get a protective shield cover for your mattress to cut off access to popular bed bug hiding spots.
Above all, keep your home as clean and clutter-free as possible, and use common sense about the items you choose to bring home with you. (Hint: don't pick up that free piece of furniture on the curb.)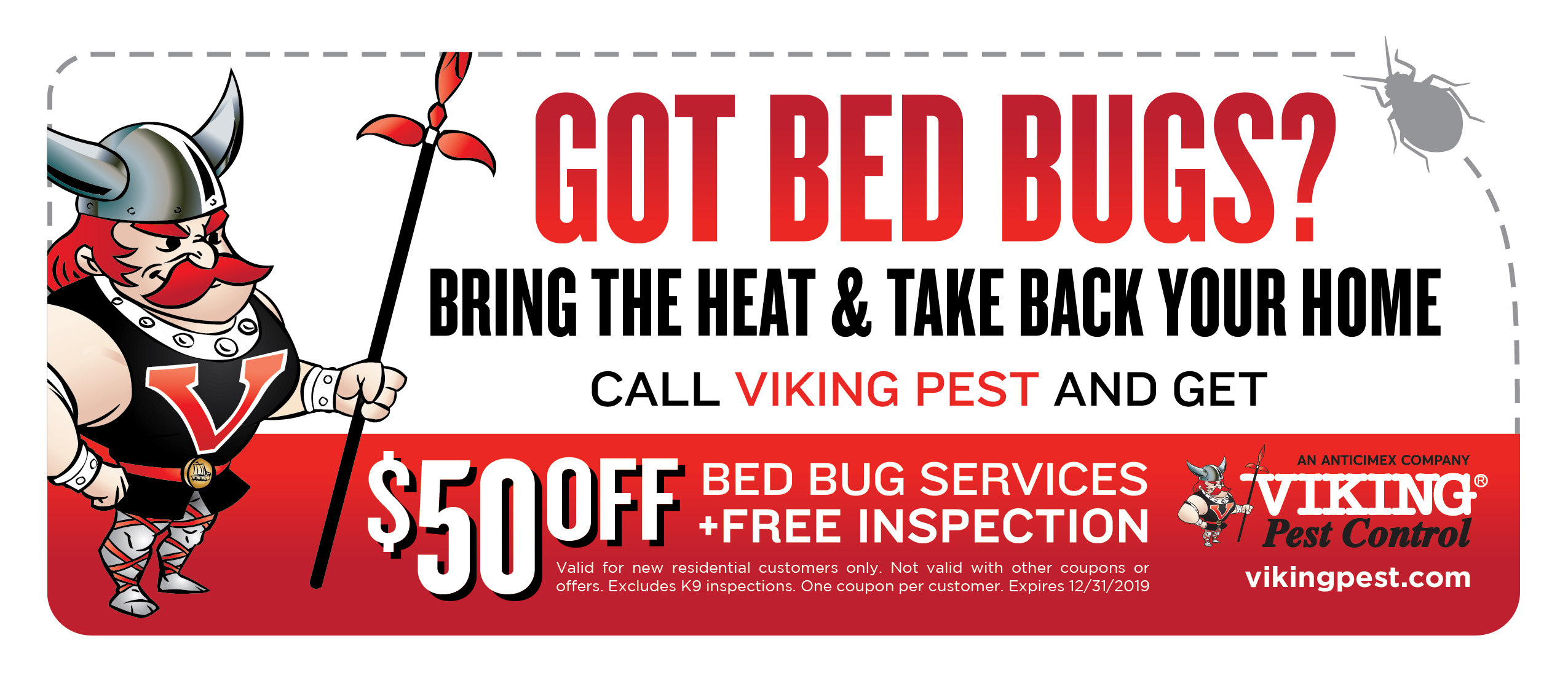 Need to Hire Professional Bed Bug Extermination Services?
We hope this post has taught you that, above all else, at home bed bug treatment simply isn't a reliable method for getting rid of these pests.
Instead, let our experts take care of bed bugs for good.
We won't just help you to get rid of your bed bug problem now, we'll also work to create a maintenance plan that stops them from getting into your home in the future. In addition to bed bug prevention, we can also assist you with termite prevention, rodent removal, and even send in our K9 unit to help you when it comes to both commercial and residential bed bug problems.
Viking Pest has been providing pest control for families and businesses since 1980. With locations servicing NJ, PA, MD, and DE, Viking is the local business that you love, with the coverage that you need.
Viking offers all clients a FREE and NO OBLIGATION estimate given by a Pest Management Professional. Call us today or request a FREE inspection online. One call gets them all!
Get Your Free Digital Download of This Article