Ultimate Spring Cleaning Schedule to Keep Pests Away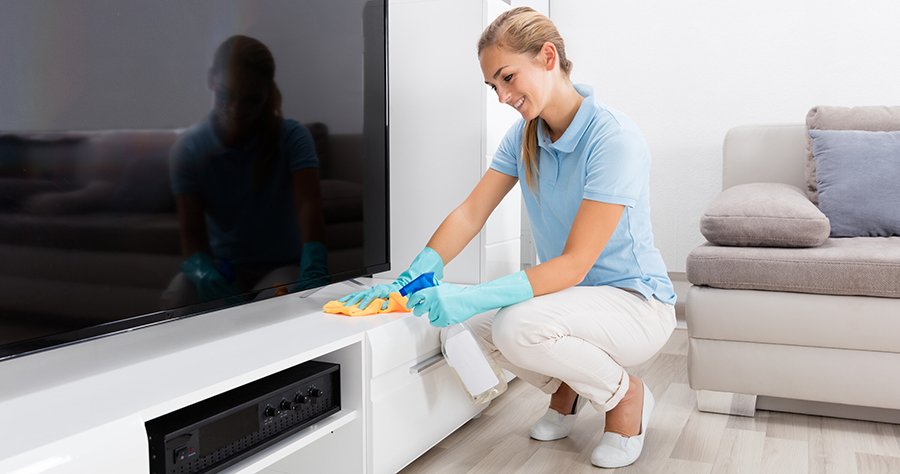 It's finally starting to feel like spring throughout New Jersey, Pennsylvania, Delaware and the Eastern Shore of Maryland with warmer weather, blooming trees, and longer nights. While trees and flowers are blooming, pests such as ants, carpenter ants, and cockroaches are emerging from their winter nests and are invading homes in search of food and water. Keeping a clean and tidy home will greatly reduce the number of pests inside your space.
With most of us staying inside during this time, deep cleaning your home may be on the top of your to-do list. Viking Pest has created the perfect weekly cleaning schedule that will not only help keep pests such as ants from invading your home, but also help disinfect and sanitize your space to reduce the spread of bacteria and viruses.
Weekly Cleaning Schedule
Daily Maintaining
Make beds
Clean kitchen counters/floors
clean dishes
take out trash
One load of laundry per day
Pick up clutter
Sunday- Deep clean your kitchen to start off your week right.
Clean stovetop of any spills and food
Wipe down all counters with a bleach spray to fully disinfect of bacteria. Make sure to wipe down with water after
Clean inside of your microwave with soap and warm water to rid of any food
Go through your fridge and throw out any food that is no longer good. Wipe down shelves and drawers if needed.
Sweep/vacuum your kitchen floors paying special attention to the baseboards to pick up any crumbs or fallen food
Mop kitchen floors
Inspect cabinets for any food that may have dripped and clean if necessary
Clean underneath your toaster/toaster oven to make sure there are no hidden crumbs on your counter.
Go through your pantry to ensure all products are tightly sealed in plastic containers. If products such as sugar are left open, ants will invade your pantry and spoil your products.
Wipe down the front of all appliances
Monday – Bedrooms
Clean sheets and pillowcases
Dust furniture
Vacuum carpet/ hardwood floors
Spray windows and mirrors with a glass cleaner and wipe them down
Take a disinfecting wipe and clean light switches, remotes, and your bedroom door handles
Tuesday – Bathrooms
Wipe down all toilets
Wipe down all counters and mirrors
Clean the shower
Wash any rugs and mats you may have
Use a disinfecting wipe to sanitize the light switches, door handles, and faucet pieces
Replace all hand towels with fresh ones
Replace any other paper products needed (toilet paper, paper towels, etc.)
Wednesday – Living spaces
Dust all surfaces
Make sure to dust/vacuum underneath your couch. If crumbs are here, this could be a big attractant for pests such as ants.
Use a disinfectant wipe to clean all light switches, remotes, and door handles
Vacuum/sweep/ mop your floors
Thursday – Spot Clean Any Areas
Clean and organize any area of your home that may need extra attention
Friday and Saturday – RELAX! You deserve it!
Keep on top of your daily cleaning routine to keep your home clean and tidy on these days.
Monthly Maintaining
Deep clean your oven
Fully disinfect and sanitize your entire home with Pro-Clean from Viking Pest. This service, when performed twice a month, will fully disinfect and sanitize your entire home top to bottom to slow the spread of bacteria and viruses. A Pro-Clean treatment is effective at dramatically reducing the number of bacteria and viruses from common colds, Coronavirus, Hepatitis B, Hepatitis C, Influenza A, H1N1 Virus and more!
Keeping a healthy and clean home is a top priority for many homeowners throughout New Jersey, Pennsylvania, Delaware, and the Eastern Shore of Maryland, and Viking Pest is here to help keep your home healthy and pest-free. CLICK HERE to receive a FREE estimate for a pest control or Pro-Clean service from Viking Pest.
Get a Fast, Free Pro-Clean or Pest Control Treatment Estimate