Proud Sponsor of Ray and Bacchus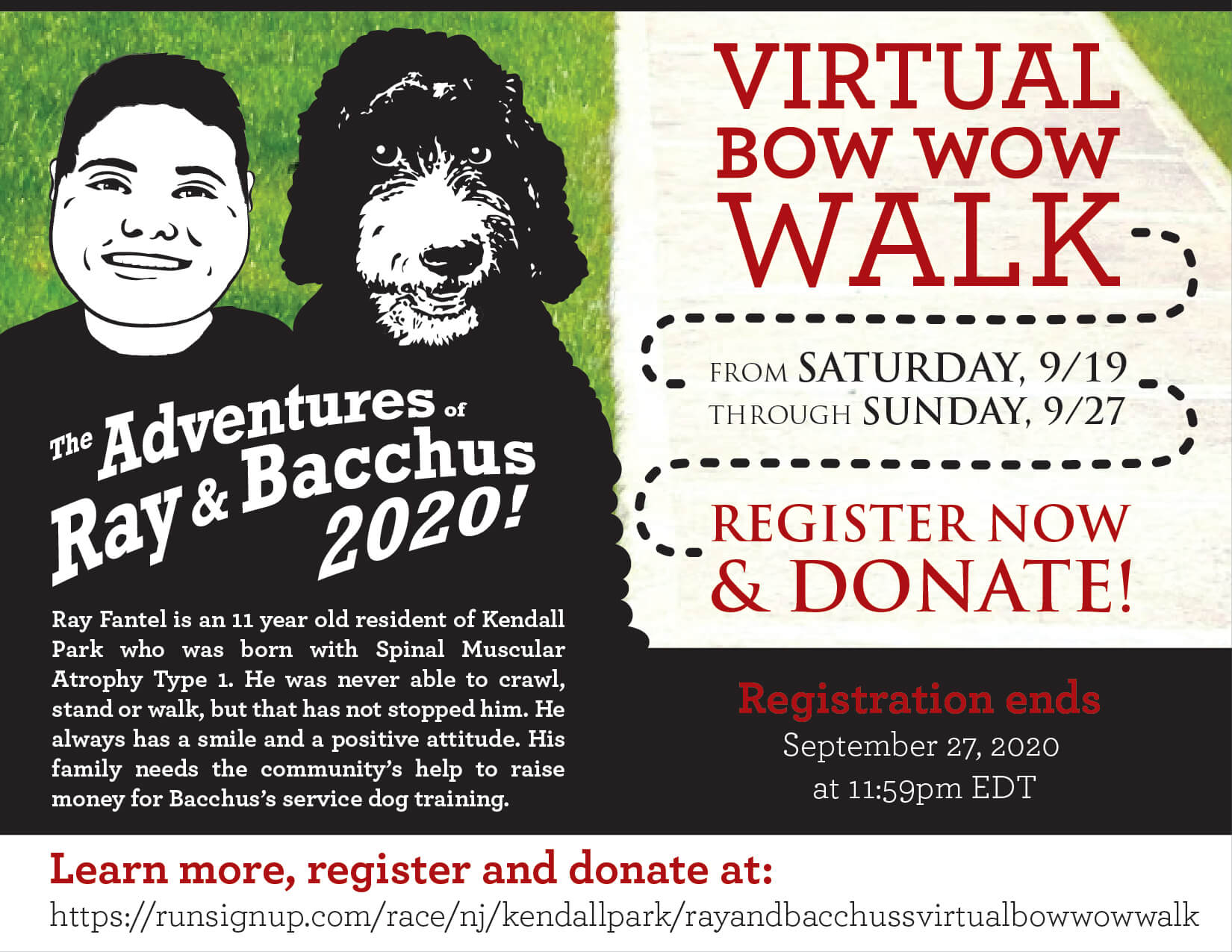 Viking Pest is a proud sponsor of Ray and Bacchus Virtual Bow Wow Walk taking place Saturday, September 19 through Sunday, September 27. As part of Viking's 40 for 40 initiative, we want to give back to our local communities and help families just like the Fantels. Thank you, Marcy for reaching out to Viking, we are proud to sponsor this event for Ray and Bacchus.
Ray Fantel was born in 2007 and diagnosed with Spinal Muscular Atrophy Type 1 in 2008. Ray was never able to crawl, stand or walk, but that has not stopped him. He always has a smile and a positive, winning attitude. Ray received a bernedoodle (Bernese Mountain Dog and Poodle mix) named Bacchus in 2019. Bacchus has been attending training classes and working with a service dog trainer for the past year, but he needs to spend time with the trainer for intense training. He has a lot to learn to be Ray's service dog and we need your help! Funds raised will be directed to Bacchus's service dog training.
What is a Virtual Dog Walk?
A virtual dog walk means you walk your dog 1 mile, 2 miles, or more. The distance is up to you (and your furry baby). We would love for you to wear your event shirt during your walk and take a photo of you and your furry baby. Please upload photos to the FB event page at https://www.facebook.com/Rays.Bacchus
Additional event information can be found at https://www.facebook.com/events/221814622203397/
Place: Your backyard, home, local park, or city streets - ANYWHERE!
Cost: There is $25 per person cost. If you fundraise and raise $100 or more, we will reverse the $25 per person registration fee. This applies per individual.
Day/ Time: Walking/Jogging/Running can take place any time from Saturday September 19th – Sunday September 27th.
Central NJ people…..if you want to join us with your furry family member and go for a walk while practicing social distancing, Ray and Bacchus will be walking at Beech Woods Park in South Brunswick (137 Beekman Rd, Kendall Park, NJ 08824) on Sunday September 20th from 9 am to 2 pm.
Please take photos and post them at https://www.facebook.com/Rays.Bacchus and on your personal social media with #RayandBacchus
Giveaway: Walkers/Runners registering before Friday September 11th at 11:59pm are guaranteed to receive an event t-shirt! Youth shirts (S, M, L, XL) and adult shirts (S, M, L, XL, XXL, 3XL) will be available. Please wear your shirt when participating and take photos and post them to https://www.facebook.com/Rays.Bacchus
Can't participate, but want to donate? Click https://nf4n.networkforgood.com/projects/15891-neighbors-fundraising-for-neighbors Please make sure you select "Ray Fantel" from the "Apply My Donation To" drop down menu.
Don't want to walk/run, but want to fundraise for this cause? Click the Donate button on the menu at the top of this screen, then choose Become a Fundraiser.
Don't have a dog but want to walk/run? Sure!!! Please join us! It is about having fun and being part of the event.
If you have any questions about this race, please contact the event coordinator (and Ray's Mom) at marcyfantel@hotmail.com