Supermarkets are subject to strict policies, rules, regulations and health and safety laws to ensure that all food items meet the highest of quality standards. At Viking Pest we know the importance of pest control for supermarkets. If pest pressures are handled incorrectly it can lead to negative economic consequences including reputation decline, customer traffic losses, and can even result in the closure of the establishment or chain. Viking's commercial pest management team is trained to assess and control the pest pressures at your supermarket, or grocery store, to ensure pests concerns are a problem of the past.
Stay up to Code on Policies and Regulations
Pests have the capability to reproduce and multiply in mass quantities within short periods of time. For this reason, it is important to always stay one step ahead of potential pest infestations. There are some steps that you can take to keep your business on the offensive, rather than the defensive when it comes to pest pressure.
Keep Your Facility Clean
With an abundance of areas where food, especially fresh food, is stored, supermarkets are at a higher risk of pest infestation. To help avoid a pest infestation you can start by ensuring the facility is always kept clean. Make sure to focus on areas that come in contact with fresh food such as meat, fish, or prepared food.
Eliminate Any Sources of Stagnant Water or Open Food
Check any areas where there may be spilt food, or stagnant water and this can be a source of food for pests. It is important to keep maintain the proper waste management strategies to reduce pest pressures within your facility. Any food residue or remnants that remain on surfaces such as counter-tops, shelving, conveyor belts, tiled surfaces, etc. can become a food source for pest populations.
Limit Pest Entry Points
External factors play a part in the vulnerability of your facility to pest infestations. While you may not find a crack in an external wall to be a major issue, be aware that a variety of pests can enter through any break in structural integrity.
While these tips are helpful for staying ahead of pest pressures, they should be done in conjunction with having regular preventative pest control treatments. If you want to stay ahead of pests get a free estimate from the professionals at Viking Pest Control today!
Get a Fast, Free Estimate
Areas of Importance
All areas of your business need to be held to the highest of standards when it comes to pest control. In particular, food preparations areas, checkout areas, and warehouses, or storage areas, need to be strictly monitored to ensure no pest activity is present. Reputation and customer experience are two important factors to consider when maintaining proper pest maintenance protocols. Pest prevention is an important step in prevent any negative attention towards your facility. Negative experiences, such as a customer finding insects or pest waste in or near fresh food, could be detrimental to the facility.
Proper pest prevention is vital to maintaining a pest free environment. The risk of pest presence is something that cannot be tolerated at your supermarket, or grocery, facility. Any sightings of pests, or suspicion of pest activity can lead to potential damage to the reputation of your business. The professionals at Viking Pest Control understand the importance of maintaining proper pest control in areas of high risk and high significance.
Common Supermarket Pests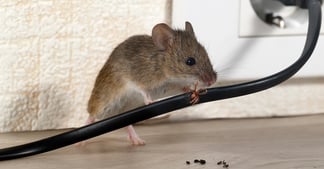 Rodents
Not only are rats and mice unsightly pests for both employees and customers, they are a threat to more than just your reputation. Rodents are capable of transmitting diseases by contaminating food and cause economic loss in the form of damaging stock or stored product. Mice are able to fit through even the smallest of openings. Once mice, or rats, have infiltrated your facility they are able to reproduce at exponential rates if not controlled. Some best practices for rodent control include sealing any potential entry points and eliminating all potential sources of food and water. Viking is proud to offer the top of the line in rodent control solutions, SMART. Click to learn more about SMART, our non-toxic, digital rodent control solutions with 24/7 monitoring to keep your facility rodent free.
---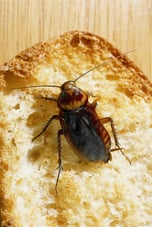 Cockroaches
In addition to their ability to adapt and survive in nearly any habitat, cockroaches are able to multiply quickly leading to large infestations. Cockroaches are able to squeeze into almost any area due to their unique ability to adapt to cracks and crevices. The presence of cockroaches poses a huge threat to the reputation of your facility, on top of being a health risk to your customers and employees. Viking has the "Smart" solutions for your cockroach concerns. Viking's innovative SMART Sense detects cockroaches by sensing changes in temperature. These pests are attracted by non-toxic pheromones and captured on a glue board with any activity automatically reported to Viking at an early stage..
---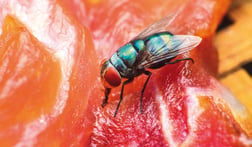 Flies
Flies are an especially common pest in supermarkets, typically found in areas where fresh food is made or stored. Flies are an important pest to pay close attention to in your facility as they can contaminate food with microorganisms which can cause serious diseases. It is important to keep continuous management of these pest, as they can reproduce rapidly. Flies can lay up to 500 eggs which will hatch in just about 30 hours, which can astronomically increase fly populations in short periods of time. The presence of flies in your supermarket is not only a threat to the health and sanitization standards of your facility, but also to your reputation if customers see these pests and presume your facility to lack the proper hygiene.
---
The Smart Solution
Viking Pest is a full-service pest management company, offering service for flies, roaches, rodents, pest birds and more. With each facility being unique in terms of needs and requirements one of our commercial account managers will conduct a site assessment to implement the correct solution for your needs. Our commercial account specialists understand that each facility's pest control needs will differ and will complete a FREE site evaluation prior to service to ensure the best solution for your unique property. Our innovative product, SMART, operates digitally with 24/7 monitoring, using data instead of poison to predict and prevent rodent infestations. SMART is 100% non-toxic, 100% digital, and 100% hassle free for your facility. Call us today at 800-618-2847 to learn more about how Viking can protect your facility from pests!
Get Your FREE Digital Download of this Article