Best Bed Bug Treatments to Prevent Infestations During COVID-19
With the emergence of COVID-19 and self-isolation procedures in place, many homeowners throughout New Jersey, Pennsylvania, Delaware, and Eastern Shore of Maryland are concerned about letting service professionals into their homes.
But for those who are unfortunate enough to experience a bed bug infestation during this time, not treating a pest control issue is not an option. Fortunately, homeowners can rest assured that reliable pest control treatments are still available and at the ready.
At Viking Pest, we're continuing to provide exterior treatments, while also conducting interior services when reasons like Bed Bugs exist during COVID-19.
Bed Bugs During COVID-19 – What You Need to Know
Most homeowners are familiar with bed bugs, even if they have been fortunate enough to not experience them first-hand. Their reputation precedes them as being pesky critters that love to make their home in mattresses, couches, wall outlets, or suitcases, and bite occupants during the night.
What makes bed bugs so menacing is their rapid reproduction rate. A single bed bug can easily turn into two or four or ten or twenty – so it's important to seek treatment at the first signs of an infestation.
Appearance & How to Spot Them:
Dark/light brown or dark red in color
Small, about 1/4-inch in diameter
Tiny heads with larger bodies
Tend to leave blood marks on bedsheets, cushions, or mattresses
Bed bug bites tend to be grouped in clusters, as a line, or in a zigzag pattern
Bed bugs often leave fecal spots on mattresses, sheets, or other surfaces
Since these insects are so small, people often blame the bites on allergies or other skin irritants. Be sure to check for the signs of bed bugs on a regular basis to stop a possible infestation in its tracks.
Can Bed Bugs Spread the Coronavirus?
With the increase of bed bug infestations, Viking Pest wasn't surprised to hear that homeowners were concerned about bed bugs spreading the coronavirus. But there is no evidence to suggest that this is the case. While allergic reactions to bed bug bites are common, bed bugs are not a concern when it comes to COVID-19 transmission.
Proactive Bed Bug Prevention
During these unprecedented times, many homeowners may be concerned about a possible bed bug infestation and whether they will have access to the services they need if they are to experience an outbreak.
The first step to preventing a bed bug infestation, is regularly inspecting your home and clothing for signs of bed bugs and knowing where bed bug infestations are more common. While travel has greatly decreased and the spread of bed bugs has reduced, apartment buildings, hospitals, and row houses are still at great risk of a bed bug infestation during this time. Bed bug infestations occur commonly in apartment complexes and row houses due to the close proximity of residents. Bed bugs multiply quickly and travel from room to room frequently. If one neighbor experiences an unfortunate bed bug infestation, the apartments or homes surrounding are at a greater risk of bed bug activity.
With the unfortunate rise in hospital visits during this time, hospitals are at great risk of a bed bug infestation as these pests can be brought in on a patient's clothing and quickly spread to other patients clothing and personal belongings. Even though apartments, hospitals, and row homes are at a greater risk, taking the proper precautionary steps such as inspecting clothing, mattresses, and crevices for bed bugs regularly can help prevent an infestation if bed bugs are discovered. The sooner bed bugs are detected, the quicker the bed bug problem can be resolved.
If you notice bed bug activity within your home during these times, effective bed bug treatment options are available from Viking Pest. Our team of certified and trained pest management professionals wear proper PPE when entering your home. Employee and customer safety are our top priority here at Viking Pest, and we will keep your home healthy and pest-free during
these unprecedented times. Precautionary tips for avoiding a bed bug infestation are:
Check Your Furniture for Signs of Bed Bugs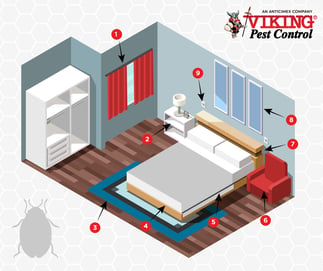 Bed bugs are opportunistic travelers, and even if you aren't out-and-about much during COVID-19, you should still check for the signs of bed bugs on a regular basis. Check the crevices of your mattresses and cushions for bed bugs, fecal spots, and eggs.
Cover Your Mattresses & Box Springs
Cover your mattresses and box springs with a light-colored, protective layer to shield your mattress and make it easier to spot bed bugs.
Vacuum Frequently
Be sure to vacuum frequently to suck up any stray bed bugs. Then, dispose of the vacuum bag to avoid a possible infestation.
Possibility of Bed Bug Infestations as Businesses Reopen After COVID-19
As restrictions begin to lift and the stay-at-home order comes to an end, bed bug activity is likely to increase as businesses reopen and residents of New Jersey, Pennsylvania, Delaware, and the Eastern Shore of Maryland begin returning to work. As we all return to business as usual, it is important to be cautious and inspect your clothing for bed bugs when returning home. Public transit and soft surfaces such as common room furniture, is a breeding ground for bed bugs.
Viking Pest's K9 Bed Bug Detection Dogs are certified and trained to detect live bed bugs. To receive a peace of mind, hiring our K9 team to inspect your home or workspace for bed bug activity regularly can decrease your possibility of a bed bug infestation.
Safe & Dependable Pest Control Services
If you are in the NJ, PA, DE, or MD areas and find yourself in the midst of a bed bug infestation, know that Viking Pest is here to provide effective, reliable pest control services.
To prevent the spread of COVID-19, our team is equipped with the proper PPE while performing any interior bed bug treatments. The health of our customers is of the utmost importance to us, so we are taking every precaution to prevent contamination while providing reliable pest control services.
Need a bed bug treatment? Viking Pest open for business during the COVID-19 pandemic. Contact us to schedule your service today.
Get a Fast, Free Bed Bug Estimate