What You Need to Know Before Opening Your Business After COVID-19
The COVID-19 pandemic has drastically changed how businesses operate and has certainly led to the closing of many physical and virtual doors. But with stay at home orders being lifted and immunologists hard at work trying to slow the spread of the virus, there is hope on the horizon for businesses looking to get back to business as usual.
With this in mind, each business should have a reopening strategy to both minimize potential losses and maintain the health of their customers. With many business owners have questions about what life will look like after COVID-19, we're covering how business owners should prepare to reopen – safely and successfully – after COVID-19 in this guide.
Why You Should Have a Post-COVID Reopening Strategy
The reopening of businesses after the Coronavirus has been called a "global experiment" in that we don't have any clear answers to what will happen after social distancing rules have lifted. Essentially, it's up to businesses both individually and collectively to create a strategic reopening plan.
Below are a few suggestions or action plans any business can consider:
All in all, having a reopening strategy is the best way to keep you, your employees, and your customers safe while minimizing financial fallout from opening too swiftly. Protection meets preparation.
Get Your FREE Reopening Strategy Download
How to Reopen Your Business After COVID-19
While there is no single step-by-step process for how to reopen after COVID-19, the White House has published reopening guidelines for businesses to follow. For simplicity, we have summarized the guidelines here to assist you in creating your own reopening plan.
Phase One
Phase Two
Phase Three
Protect Your Business and Your Customers
At each phase of the recommended reopening plan, businesses are encouraged to keep common areas disinfected and sanitized to protect the health of their customers and employees. At Viking Pest, we support businesses in reopening safely and successfully by providing reliable sanitation services.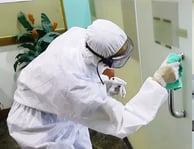 With our Pro-Clean disinfectant and sanitizing product, we assist businesses in sanitizing before reopening and offer ongoing service plans available to provide sanitization on a regular basis.
Is your business prepared to reopen after COVID-19? Fill out the form on this page to receive your FREE download of our reopening phased strategy. This comprehensive guide will guide you in creating a successful reopening strategy to keep your employees and customers safe.