Whether you own, or manage, a business you know how critical it is to keep your property up to code. Unfortunately, even your best efforts will not always serve to protect against Mother Nature's irascible army of pests. Thankfully, when it comes to commercial pest control, you can trust the expert guidance of a pro to keep your business at the head of the game.

A leader in commercial pest control, Viking is proud to offer its uniquely advanced SMART solution. Anticimex is the current world leader in digital monitoring and pest management with 118,000 devices in the field. An intelligent system that monitors what you don't want to see, SMART predicts and prevents costly infestations, allowing you to focus on what matters most: your business.
What to know about Rodents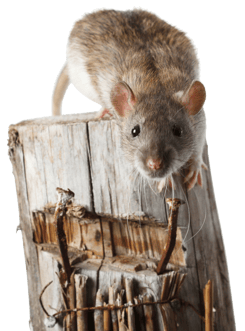 Rodents are mammals characterized by a single pair of continuously growing incisors in each of the upper and lower jaws. Rodents are famous for being able to chew through soft concrete, wood, plastic, aluminum, and cinder block. These pests can gain entrance to a building through any opening larger than ½ inch across. Did you know that rats can travel through sewage systems and enter through drains? With various diseases both directly and indirectly transmitted by rodents, these pests prove not only to be a sanitary concern, but a health concern as well.
The brown rat can breed throughout the year if conditions are suitable. With a female producing up to five litters a year the population of rats can grow by a factor of 10 in just 15 weeks. This makes it possible for the population to grow from 2 to 15,000 in only one year!
Commercial Pest Control Through Viking Pest
A multi-faceted approach, SMART uses a variety of cutting-edge technologies to detect pests from the moment they set foot on your property. Designed specifically for your needs, every SMART plan is comprised of three steps:
Analyze and Plan: Your site is inspected and evaluated, with a thorough review of blueprints to ensure complete coverage. Our seasoned team of technicians will gather your input and design a unique plan optimized for your property.
Install and Connect: Using state-of-the-art and multi-purpose technology, we will install and connect your system around your property according to functional needs and local ordinances.
We Service, You Relax: And that's it! Our ongoing service includes physical inspections, removal and relocation of traps, and expert analysis along the way. With a full-bodied staff and all you have to do is sit back, relax, and enjoy your pest-free property.
We do all the work! Our SMART system actively sends information even when there is no activity, and date and time information is recorded when there is activity. Imagine being able to see when spikes in activity occur and being able to form a better understanding of why these spikes occur. For establishments where there is a zero tolerance for rodents this can make a huge difference. SMART is designed to take away stress, with our SMART Control, Eye, Catch, and Box our team can monitor unobtrusively and remotely, 24-hours a day. In addition, you do not need to schedule services. We schedule them as soon as we spot a potential problem, so that there is never an opportunity for pests to become an infestation.
Viking Advantage
Do you have multiple commercial properties? Concerned about having various pest control companies? Viking's vast presence means there is most likely a Viking office right in your neighborhood. If any pest does find a way into your business, Viking's commercial pest control professionals are there at a moment's notice. We take care of the situation discreetly and work with you for long-term relief. That's the Viking Advantage Commitment: A Regional coverage with a local touch.
To learn more about Viking's SMART program, or to see whether it's right for your business, give us a call or visit our SMART Program page. We look forward to showing you what our business can do for yours!